Shedd Aquarium, Chicago IL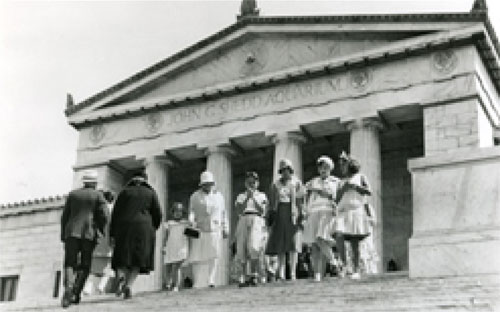 Part vision, part ingenuity.
The history of Shedd Aquarium is part vision and part ingenuity. Our founder, John G. Shedd, retired president of Marshall Field& Company, was a marketing genius and just as bold and ambitious as his city. He was determined to transform Chicago into a world-class metropolis.
Build It, and They Will Come
By the early 1920's, every truly cosmopolitan city here and abroad had a fine aquarium. While Chicago's Lincoln Park Zoo did have an impressive freshwater fish collection, what Shedd had in mind was a stand-alone aquarium. In the spirit of "build it, and they will come", he made a $2 million gift to get things going. He would add another $1 million to make sure his aquarium would be just as grand as the two museums already in Grant Park: the Art Institute of Chicago and the Field Museum.
Shedd's civic and business colleagues rallied behind him. They formed the Shedd Aquarium Society in 1924 and asked the Chicago Park District for use of the area created by landfill at Roosevelt Road and the lakefront. This site was in keeping with architect Daniel Burnham's visionary Plan of Chicago, which called for the city's cultural institutions to be located in parks along the lake.
"Make No Little Plans"
Inspired by Burnham's famous charge, "make no little plans", Shedd founders got down to business making plans for the world's largest aquarium.
From Naples to Berlin, San Francisco to Boston, a research team spent months examining the design and operation of leading aquariums across the globe.
Only the best and most modern techniques would be incorporated into Chicago's aquarium. Groundbreaking took place on November 2, 1927, and construction of the grand Beaux Arts building was completed in a remarkable two years.
On December 19, 1929, Chicagoans had just dug out from a blizzard. They were still reeling from the stock market crash two months earlier. A sneak preview of the magnificent Shedd Aquarium provided a much-needed boost. Thousands lined up to see the stupendous building and the aquarium's only display — A large freshwater pool featuring fishes, reptiles and amphibians.
An Unprecedented Undertaking
Over the next year, more than a million gallons of seawater were shipped by rail from Florida to fill new galleries. It was an unprecedented undertaking: Shedd would be the first inland aquarium with a permanent saltwater collection.
When the aquarium officially opened on May 30, 1930, it housed the greatest variety of sea life under one roof. Sadly, John G. Shedd only lived long enough to see the architect's first drawings for his aquarium. It was his widow, Mary R. Shedd, who cut the ribbon at the official opening ceremony.
From New Kid on the Aquarium Block to Industry Leader
No doubt about it. John G. Shedd would be proud of his aquarium — just as proud as we are three-quarters of a century later. We've restored and updated his building, now a national historic landmark. With the additions of the Oceanarium and Wild Reef, we've doubled in size. We are a conservation leader in places near and far, and we continue to set new standards for the zoo and aquarium community. And Shedd is the hottest destination in a cool town.
Western Remac and Roderick Treece / Custom Glass Signs
Working closely with Western Remac Construction on the newest updates at the Shedd aquarium Roderick Treece created aqua blue tinted glass panels for the lobbies , Beluga Trail and the Pacific Northwest aquarium displays.
The transparent aqua blue panels are 3/4″ starfire glass with sandblasted and paint filled lettering. Etched sea life images and stainless steel mounting hardware.